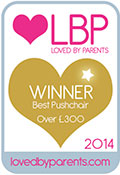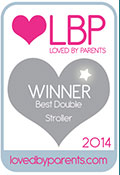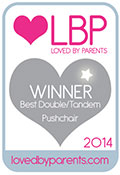 Available for sales only within the UK
The award winning Obaby ZeZu Multi is a multifunctional, all-in-one pushchair and pramette which grows with your family. It can simply be transformed in to a travel system and tandem, suitable for one or two children.
The Obaby Zezu Multi is unrivalled as an all in one pramette - easily transformed from a suitable from birth pram to a multi position forward or rear facing stroller, without the need for an extra carrycot. Compatible with the optional Obaby Zezu car seat or Zezu Maxi Cosi car seat adaptors, the Zezu provides the extra convenience and versatility of a travel system.
As your family grows, so can your Zezu! The Obaby Zezu Multi offers flexible and versatile travel options for two children, with the additional Zezu Multi Tandem Kit. The unique Zezu Multi Tandem Kit gives the option to add a toddler seat or ride on board to the rear of your Zezu.
Comfort is a priority to both baby and parent. With this in mind the removable pram liner, shoulder pads, head hugger and crotch pad ensure that baby is kept snug when out and about. For parents the height adjustable foam handle, easy to fold lightweight chassis and quick release puncture resistant rear wheels, all ensure the convenience needed in busy family life. The large coordinating shopping basket gives the space needed for shopping and days out.
Interaction between baby and parent can be enjoyed with the front or rear facing seat unit. Piece of mind is ensured with the 5 point safety harness and wrist strap. When the weather is unfavourable the raincover and lined apron will keep baby warm and cosy.
Features:
* Suitable from birth to a maximum weight of 15kg
* All in one pram and seat unit, changes easily from pram to stroller
* Multi position front and rear facing seat unit
* Easy click Obaby Zezu car seat available separately
* Zezu Maxi Cosi car seat adaptors available separately
* Zezu Multi Tandem Kit available separately
* Lightweight aluminium chassis
* Sporty lockable front swivel wheels
* Quick release puncture resistant rear wheels
* Height adjustable ergonomic foam handle
* Easy and compact fold
* Suspension for a smooth ride
* Adjustable 5 point harness
* Wrist strap safety feature
* Large coordinating shopping basket
* Detachable retractable hood
* Matching lined apron, shoulder pads and head hugger
* Pram liner for extra comfort
* Removable bumper bar
* Compact PVC raincover with matching trim
* Wipe clean fabric
Weight: 13.3kg
Unfolded dimensions: 105 x 60 x 104cm
Folded dimensions 84 x 46 x 45cm